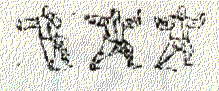 GREAT HARMONY TAI CHI CHUAN...
For health, meditation, and martial arts.
Classes begin with the Tai Chi Chuan form movements of the solo exercise. When the movements are familiar, breathing and mental conditioning are integrated to create the Tai Chi experience. Two-person exercises such as push-hands and applications are then integrated into the program.
Beginning and continuing classes are in the yang style, and taught in affiliation with Master William CC Chen.
Sword, saber, long-form, and staff are also available.
SCHEDULE
special class times can be arranged for private classes
Monday 12 to 1 long form plus
Tuesday 10-10:30 special
10:30-11:30 short form
11:30-noon special
Wednesday 7-9am private, 7-8 pm short form
Thursday 10-10:30 special
10:30-11:30 short form
11:30-noon special
Friday 6-7 pm short form
7-7:30 sword
(occassional saturdays at 1 pm can be arranged for private classes)
Sunday 3:30-4:30 pm special